Set for every user a different screen resolution. After login, the screen resolution will be changed to the stored setting.
After running the setup, Carroll is started automatically for every user.
At first start, Carroll shows all available screen resolutions. Select the desired screen resolution and click 'Change screen resolution and restore with every logon'.
Next time, Carroll changes the screen resolution automatically without displaying the user interface.
Do you like the software? Make a Donation!
You don't need to have a paypal account in order to make a donation.
Install using package manager:
winget install --id the-sz.Carroll -e --force
content_copy
Supported Languages:

English

French

German

Greek

Italian

Russian
Supported Operating Systems:
Windows 11
Windows 10
Windows 8
Windows 7
Windows Vista
Windows XP
Windows 2000
Windows Server
Video from revision3.com:
Screenshot: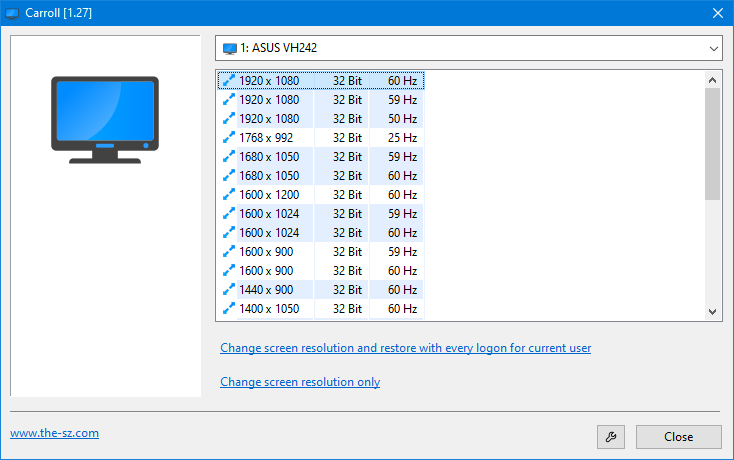 Command line options:
| | |
| --- | --- |
| /OnlySet | Set the video mode only, don't show the user interface |
| /OnlyMonitor <0> | Change only the specified monitor |
| /Resolution "<width>x<height> <color deep> <refresh rate>" | Example: /Resolution "1024x768 32 60" |
| /NoTerminalSession | Application exits after setting the resolution, don't keep it running to handle user switching |
| /Recommended | Use highest resolution |
| /UseStoredResolutionIfPossible | Try to use first the stored resolution, if not available use /Resolution option |
| /Position "<x> <y>" | Set monitor position, to change primary monitor, set the secondary monitor to position not 0x0 |
| /IsPrimary | Set this monitor as primary monitor |
| /l <language code> | Change user interface language to specified 2 letter language code |