This program displays ATIP media information like manufacturer, ID and type. Further, all ISO descriptors from CD-ROM, DVD and Blue‑ray discs are shown.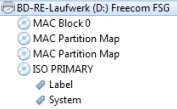 search
Bootable CD & Hybrid disc
See if a CD/DVD is bootable. Detect whether a CD/DVD has an additional HFS MAC partition.
---

search
Disc Authoring Software
See which disc authoring software was used.
---

search
Media Manufacturer
Identify the real media manufacturer, media ID and media type from the ATIP region of CD, DVD and Blue-ray discs.
Do you like the software? Make a Donation!
You don't need to have a paypal account in order to make a donation.
Install using package managers:
winget install --id the-sz.CDInfo -e --force
content_copy
choco install cdinfo.portable -y --ignore-checksum
content_copy
Supported Operating Systems:
Windows 11
Windows 10
Windows 8
Windows 7
Windows Vista
Windows XP
Windows 2000
Windows NT 4.0
Windows Server
Windows Me
Windows 98
Command line options:
| | |
| --- | --- |
| <file.txt> | save displayed information to text file and exit application |
Screenshot: