View and extract resources from EXE, DLL, OCX, CPL or any other Windows 32 & 64 Bit PE file. The embedded resources are shown in a tree sorted by language and type. Pictures like BMP, PNG, JPG, AVI movies, icons, cursors, dialogs, string tables and version info are shown in a preview. All other resources are shown as a binary dump.
Every resource can be saved.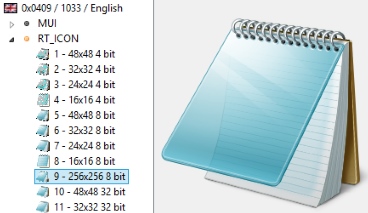 search
Icons
You can extract icons with all resolutions including 256x256 PNG format.
---

search
String Tables
Save the whole string table as text file in unicode and ansi format.
Do you like the software? Make a Donation!
You don't need to have a paypal account in order to make a donation.
Install using package managers:
winget install --id the-sz.Redwood -e --force
content_copy
choco install redwood.portable -y --ignore-checksum
content_copy
Supported Languages:

English

French

German

Greek

Russian
Supported Operating Systems:
Windows 11
Windows 10
Windows 8
Windows 7
Windows Vista
Windows XP
Windows 2000
Windows Server