After the start, a small icon near the clock is shown. The tooltip of this icon shows the username, computer name and workgroup/domain. Further, for every network adapter, all ip, gateway and dns server addresses are shown.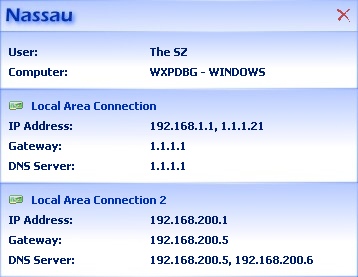 Network Connection Settings
A doubleclick on the icon will show all information in a nice dialog.
Do you like the software? Make a Donation!
You don't need to have a paypal account in order to make a donation.
Install using package managers:
winget install --id the-sz.Nassau -e --force
content_copy
choco install nassau.portable -y --ignore-checksum
content_copy
Supported Operating Systems:
Windows 11
Windows 10
Windows 8
Windows 7
Windows Vista
Windows XP
Windows 2000
Windows Server
Command line options:
| | |
| --- | --- |
| /s | Just show the dialog immediately without the taskbar icon |
| /e <report.txt> | Create a text file with all information |